Last year, the South Korean car manufacturer was very proud. "A great moment for Switzerland!" the truck builders rejoiced on the information page https://aktuell.hyundai.ch/. Less than twelve months after the presentation of the first vehicle, the "world's first fleet" of standard Hyundai XCIENT Fuel Cell heavy-duty commercial vehicles had reached the magic limit of 1 million kilometers.
"As a result, the 36-ton trucks have already saved 631 tons of CO2 emissions compared to diesel trucks. The momentum is just as historic for Hyundai as it is for the 25 transport and logistics companies that gradually put their heavy hydrogen electric commercial vehicles into operation from October 2020 and are now using them permanently on Swiss roads."
Expansion of the hydrogen filling station network
At the same time, the members of the supporting H2 Mobility Switzerland association expanded the network of hydrogen filling stations. The first H2 filling station in Hunzenschwil (Coop pronto) was followed by the opening of seven further stations in July 2020: St.Gallen (AVIA), Rümlang (AVIA), Zofingen (AGROLA), Geuensee (AVIA), Rothenburg (AGROLA), Bern (Coop pronto) and Crissier near Lausanne (Coop pronto).
Hyundai immediately wanted to present itself as the European climate protection leader. Therefore, all of the filling stations mentioned have in common the exclusive delivery of green hydrogen (H2 ZERO), both for cars (700 bar) and for commercial vehicles (350 bar). In Gossau, AVIA is preparing another H2 filling station exclusively for trucks. A support association is also planning to set up a nationwide H2 filling station network in Switzerland by 2023.
The Xcient is a model with a 350 kW electric motor with a maximum torque of 2,237 Nm. A 180 kW hydrogen fuel cell system with two 90 kW fuel cell stacks is also installed. Seven hydrogen tanks – depending on the ambient temperature, refueling should take around eight to 20 minutes – together offer a storage capacity of around 31 kilograms of fuel. A 72 kWh battery serves as a supplementary energy source. The company specifies the maximum range as 400 kilometers. The vehicle is therefore specially tailored to the requirements of fleet customers.
Hyundai : hydrogen electric mobility with carefree leasing
In 2019, the Hyundai Motor Company and the Swiss start-up company H2 Energy founded a joint venture that offers heavy fuel cell commercial vehicles to transport and logistics companies in a pay-per-use system. Hyundai Hydrogen Mobility (HHM) offers the XCIENT Fuel Cell in a form of leasing that includes all costs, from import to technical support to the availability of green hydrogen. The big advantage: For the end customer, this means there are no initial costs associated with the purchase of a commercial vehicle.
In addition, a second joint venture called Hydrospider, in which Alpiq, H2 Energy and Linde are involved, was created to manage the production of green hydrogen, its storage and delivery to filling stations. Because the model for Switzerland only provides for the use of green hydrogen. The commercialization of fuel cell technology in the commercial vehicle sector is an important pillar of "Strategy 2025", with which Hyundai aims to achieve an annual sales target of 110,000 fuel cell electric vehicles for cars and trucks by 2025. At the same time, Hyundai Motor Group is increasing the production capacity of hydrogen electric vehicles to 500,000 units per year by 2030. The XCIENT is also to be introduced in North America.
Energy market volatility: concept in distress
Information from Hyundai customers about allegedly canceled contracts and statements by Beat Hirschi, the CEO of Hyundai Switzerland, had been condensed into the report by the trade journal "trans aktuell": Only the pay-per-use program for the 47 Hyundai Xcient, which already drive on Swiss roads, will continue to walk. Otherwise, the project will come to an abrupt end due to exorbitantly increased energy prices or a lack of available green hydrogen.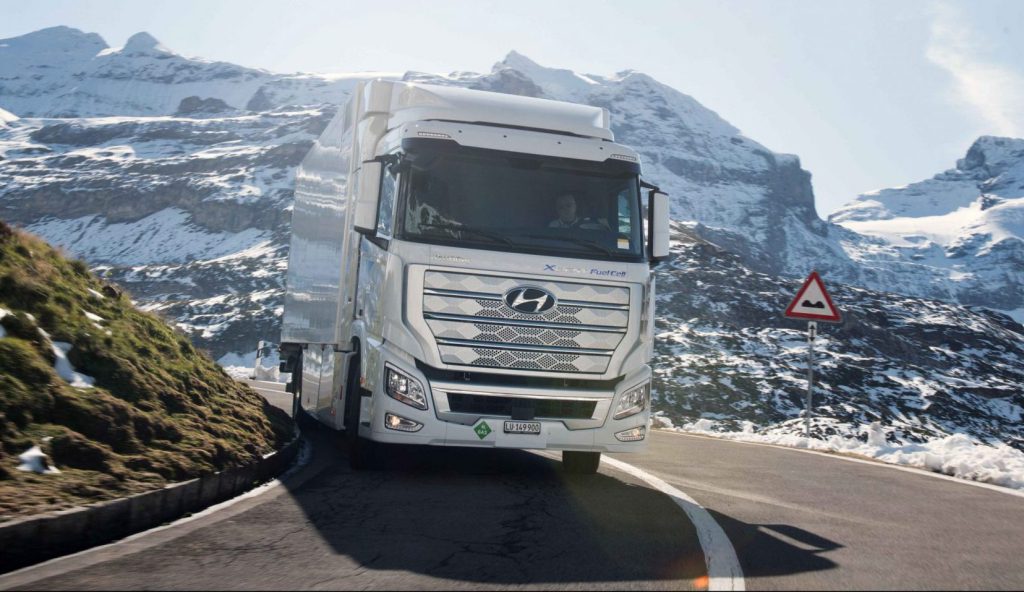 In an interview with the information service electrive.net, Rolf Huber, CEO of H2 Energy, defended himself against this reduction: "We never broke any contracts!" But Huber also realised that it would be easier with the introduction of the hydrogen truck, would Switzerland initially have contented itself with accepting "grey", i.e. not completely ecological, hydrogen as a means of propulsion, as planned now in Germany. For the time being, seven German companies will put 27 such vehicles into fleet service, according to Hyundai.
"In our pay-per-use model, we were able to offer a kilometer price for a long time that made it possible to compare the overall costs to a diesel truck – our kilometer tariff is linked to the diesel price," Huber explained in the interview. "If the electricity prices now rise by 1,000 percent, but the diesel price in Switzerland only by 20 to 30 percent, then that will have a big impact on our consortium partners such as Hydrospider or the independent filling stations." Twice the amount of green hydrogen that the Hyundai truck project needs for the Swiss market is available. However, the partners can only pass on the price increases to their customers to a limited extent and therefore cannot assume the entire electricity price risk. "Some customers are looking for other solutions, but others still want to continue."
In any case, according to Huber, the conditions in the leasing offer have to be changed: "If we sell a truck now, we have to buy a certain amount of electricity in order to be able to guarantee its operation and the production of hydrogen. This is currently happening at significantly higher prices than, for example, in 2020." It is important for Huber: "Hyundai appears in all headlines, but has nothing to do directly with it. I was just in South Korea and spoke personally with those responsible. There are no attempts at Hyundai to end the project or scale back their involvement."
Hoping for spring and the Danish H2 pipeline
The Hyundai H2 consortia are pinning their hopes on spring 2023. According to Huber, experience has shown that electricity prices will then relax significantly: "There is less heating, and electricity consumption by the heat pumps will decrease. At the same time, the sun shines more, which makes PV systems more effective. And the melt water from the mountains drives the hydroelectric power plants. So we have higher production and lower demand, which usually translates into lower prices in spring futures contracts. And that also reduces our costs again." According to Huber, there are big plans for the future: "Through H2 Energy Europe, a joint venture between H2 Energy and Trafigura, we are building the world's largest hydrogen production plant in Esbjerg, Denmark. We want to build a capacity of 1 GW there, which corresponds to 90,000 tons of hydrogen per year. That's enough to run 10,000 trucks. The hydrogen is then transported by pipeline from the electrolyser – not only to Switzerland, but also within Denmark and to Germany."
Hermann Schmidtendorf, Editor-in-Chief